Site officiel du Tourisme de Nantes Métropole
Booking
Appartment "Little Pommeraye"
Address
: 24 rue de la Fosse, 44000 Nantes
(
show map
)
Location: city center
City appartments | Fully renovated apartment in the heart of Downtown. Historic building built in 1848 High ceilings with an open kitchen. Separated by a glass roof. Room Cured with a Scandinavian touch decoration, respect for materials used. Conveniently located 50 meters from the Place du Commerce. (Parking, trams, shops, cinema)
Compare "Appartment "Little Pommeraye"" with similar alternatives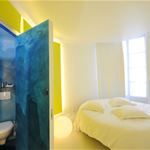 Room 309 / It's impossible to draw, it's round by Micha Deridder. For Hôtel Pommeraye, Micha Deridder decided to instil visitors with an unforgettable and unusual experience by offering them the possibility of being creative agents, and letting them choose how they use their space. If a round bed allows you to sleep in whatever direction you like, does that mean a round room allows you to do whatever you like...? In Micha Deridder's Room 309, no object obstructs your vision, and nothing blocks out the light from coming in. Behind a sliding door, the bathroom is blue, like an island-filled ocean.
The « Grand Hotel Mercure » is located right in the city centre near the Place Royale, 5 minutes from the Congress Center and the SNCF train station and 20 minutes away from the Airport. The hotel is right in the centre and very close to cultural and tourist sites.
Establishment ideally located right in the heart of Nantes, 1 min away from the Theatre Graslin and the Place Royale, famous for its fountain related to the history of the Loire river. 10 min from the SNCF train station.