Site officiel du Tourisme de Nantes Métropole
Booking
Oceania Hôtel de France Nantes
Address
: 24 rue Crébillon, 44000 Nantes
(
show map
)
Location: city center
Hotel | Establishment ideally located right in the heart of Nantes, 1 min away from the Theatre Graslin and the Place Royale, famous for its fountain related to the history of the Loire river. 10 min from the SNCF train station.
The entry of the hotel is located in one of the most commercial streets of Nantes, Rue Crébillon. Our hotel will charm you by its history, its architecture and its comfort. Their Louis XVI style rooms are equipped with full bathrooms, TV with Satellite and direct dial telephone. Breakfast buffet (from 6.30 am to 10 am). The services of the hotel: night watchman, room service, dry-cleaner's, safe, taxi booking and fax. The hotel has a private car park (according to availability). A baby bed can be lent (according to availability).
Compare "Oceania Hôtel de France Nantes" with similar alternatives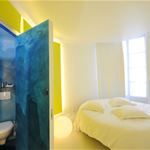 Room 309 / It's impossible to draw, it's round by Micha Deridder. For Hôtel Pommeraye, Micha Deridder decided to instil visitors with an unforgettable and unusual experience by offering them the possibility of being creative agents, and letting them choose how they use their space. If a round bed allows you to sleep in whatever direction you like, does that mean a round room allows you to do whatever you like...? In Micha Deridder's Room 309, no object obstructs your vision, and nothing blocks out the light from coming in. Behind a sliding door, the bathroom is blue, like an island-filled ocean.
The Amiral Hotel, a 2-star establishment located in the heart of the historic and cultural centre of Nantes, a stone's throw from Graslin theatre, the shops and the most popular restaurants, is the perfect place to enjoy a break. An eco-friendly hotel in the heart of Nantes. The Amiral, a certified European Eco-label establishment, offers the ultimate in comfort whilst respecting the environment. Each room is entirely equipped, offers free wifi as well as peace and comfort in a modern yet restful setting.
Near the Loire, the hotel Le Cambronne welcomes you in a soft and pleasant atmosphere. Next to the "Quai de la Fosse" and "Machines de L'île" with its famous elephant, in front of the "Hangar à bananes" in the centre of Nantes. The hotel Le Cambronne welcomes you in the Loire Atlantique.